When finding movies online it's important to know which Region  you need to buy so that the movie will actually work in your DVD/Bluray Player!  Below is a quick guide:
Bluray Regions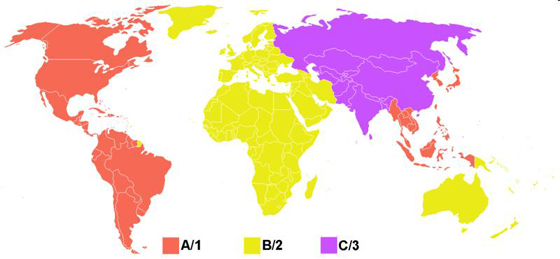 Region A
North America, Central America, South America, Japan, Taiwan, North Korea, South Korea, Hong Kong and Southeast Asia
Region B
Europe, Greenland, French territories, Middle East, Africa, Australia and New Zealand
Region C
India, Bangladesh, Nepal, Mainland China, Pakistan, Russia, Central and South Asia
Region Free – All Areas!
A lot of movies are relased without region coding,  but you may need some research to determine which ones!
DVD Regions
Region 1
American Samoa, Canada, Guam, Palau, Mariana Islands, Marshall Islands, Puerto Rico, Micronesia, United States, U.S. Virgin Islands
Region 2
Albania, Andorra, Austria, Bahrain, Belgium, Bosnia and Herzegovina, Bulgaria, Croatia, Czech Republic, Denmark, Egypt, Finland, France, Germany, Gibraltar, Greece, Greenland, Hungary, Iceland, Iran, Iraq, Ireland, Israel, Italy, Japan, Jordan, Kuwait, Lebanon, Liechtenstein, Luxembourg, Macedonia, Malta, Moldova, Monaco, Netherlands, Norway, Oman, Poland, Portugal, Qatar, Romania, San Marino, Saudi Arabia, Slovakia, Slovenia, South Africa, Spain, Sweden, Switzerland, Syria, United Arab Emirates, United Kingdom, Vatican City, Yemen, Yugoslavia
Region 3
Cambodia, Hong Kong, Indonesia, Laos, Malaysia, Myanmar, Phillipines South Korea, Taiwan, Thailand, Vietnam
Region 4
Antigua, Argentina, Aruba, Australia, Bahamas, Barbados, Barbuda, Belize, Bolivia, Brazil, Chile, Colombia, Costa Rica, Cuba, Dominica, Dominican Republic, Ecuador, El Salvador, Falkland Islands, French Guiana, Grenada, Guatemala, Guyana, Haiti, Honduras, Jamaica, Mexico, New Guinea, New Zealand, Nicaragua, Panama, Paraguay, Peru, Suriname, Trinidad, Tobago, Uruguay
Region 5
Afghanistan, Algeria, Angola, Bangladesh, Belarus, Benin, Botswana, Burkina Faso, Burundi, Cameroon, Cape Verde, Central African Republic, Chad, Comoros, Congo, Djibouti, Equatorial Guinea, Eritrea, Estonia, Ethiopia, Gabon, Gambia, Georgia, Ghana, Guinea, Guinea-Bissau, India, Ivory Coast, Kazakhstan, Kenya, Latvia, Lesotho, Liberia, Libya, Lithuania, Madagascar, Malawi, Mali, Mauritania, Mauritius, Mongolia, Morocco, Mozambique, Namibia, Niger, Nigeria, North Korea, Pakistan, Russia, Rwanda, Sao Tome and Principe, Senegal, Seychelles, Sierra Leone, Somalia, Sri Lanka, St. Helena, Sudan, Tanzania, Togo, Tunisia, Turkmenistan, Uganda, Ukraine, Uzbekistan, Zambia, Zimbabwe
Region 6
China (selfish!)
Enjoy this post? Connect with me on Facebook!
Help me review the best movies and join the discussion with an online community!